Mud Flaps
What's the difference between universal fit and custom fit?
Choosing between a universal or custom fit mud flap depends on personal preference, price, ease of installation, and available options.
Universal fit mud flaps by themselves are not designed for a specific vehicle. However, combined with a vehicle specific bracket, universal mud flap installation can be easier. Universal mud flaps can be cut if necessary.
Custom fit mud flaps combine a universal rubber mud flap with a vehicle specific mounting bracket/plate into an easy, ready to install product. They install using factory mounting holes whenever possible. They provide the easiest installation.
What bracket is used with oversize tires?
If your truck is lifted with large oversize tires, a 1-2 inch offset bracket may be used to move the mudflap away from the tire to prevent rubbing. Universal offset brackets can also be mounted out from the body to accomodate wheels with larger offsets.
How many mud flaps are in a set?
Most of our universal series mud flaps are sold in separate front and rear sets, with left and right sides. This allows you to choose a different style for the front and back. Some of our custom series mud flaps are available in a kit that includes both front and rear sets.
What are cut/mooncut mud flaps?
Cut rubber mud flaps have an arch cut out of them. They are intended for use on the front of the vehicle. This cut out area provides tire clearance, and also allows the rubber to clear any raised areas on the front inner wheel well. Cut (front) mud flaps cannot be used with our rear support brackets as they lack the material, and mounting holes found on rear (non-cut) universal mud flaps.
Cut / Front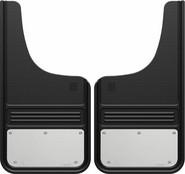 Non-cut / Rear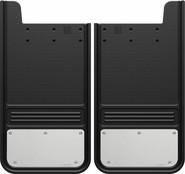 What is the front side of the mud flap?
The front of our mud flaps will face the back of your truck, and often features a stainless steel plate. Once you know the front and back side of a mud flap, it's easy to figure out the left and right side.
Front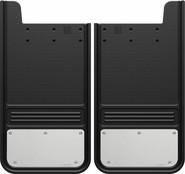 Driver Side | Passenger Side
What size of mud flap should I use?
To choose the right size of mudflap, you need to know your truck's tire tread width. Please refer to the chart below for some general guidelines:
| Size | Tire width | Comments |
| --- | --- | --- |
| 10x18" | <= 10.5 inch | Designed for cars and SUVs. |
| 12x23" | <= 12.5 inch | Popular size for stock light duty and heavy duty pickup trucks. |
| 12x26" | <= 12.5 inch | Extra long for trucks with a small lift kit. |
| 14x18" | <= 14.5 inch | Designed for lifted trucks with large oversize tires. Requires an offset bracket. |
| 19x24" | <= 19.5 inch | Designed for dual rear wheels (DRW, Dually). |
| 21x24" | <= 21.5 inch | Extra wide for dual rear wheels (DRW, Dually). |
How do I install universal mud flaps?
Please refer to our installation instructions available on each product page for more information. We recommend that our universal mudflaps be installed by an experienced installer. For help finding an installer near you, please contact us. Our no drill, and custom fit mud flaps are easier to install and present less risk of damaging your truck.
The installation of universal mudflaps varies from one truck model to another. It's important to install the mudflap square to the tire, and positioned at the proper height off the ground (not too low). A rear support bracket can greatly simplify installation on more difficult to install trucks, and provide a more durable installation.
Please also check out the Truck Hardware YouTube Channel for installation videos.
What precautions are required for aluminum body trucks?
With the release of the 2015 Ford F-150, installers need to exercise special care when installing any product onto aluminum body trucks. Ford has released the Q-222 Special Vehicle Engineering Bulletin, which provides helpful guidelines. We recommend anyone installing Truck Hardware mud flaps review this document carefully. Whenever possible, we recommend using Truck Hardware No Drill Brackets to install mud flaps on aluminum body trucks.